Year 2
Term 6
Maths
We have been investigating shapes and their various properties. We know how many vertices, sides and faces different 3D shapes have.
Term 5
We have started back with a bang!
We are really enjoying the start of our new topic, 'Street Detectives'
Year 2 Sweet Shop
We have created a sweet shop role play area to help the children with various mathematical learning, but focusing on measurement. The children can be heard saying, "Which is greater the candy canes or the toffees?" The children then use the < > or = signs to show how they compare amounts.
Maths and Topic
We have been looking at streets and we decided to use the Bee-Bots to help us with our position and direction learning. We wrote instructions for the Bee-Bots, focusing on anti clockwise, clockwise, quarter turns, half a turn, three quarter turns and what a right angle looks like.
Term 4
Pizza Express
As part of our topic learning, the Year 2 children all went to Pizza Express. We were able to try all the different foods that go on various pizzas and we even made our own. We then went and had a picnic and ate our pizzas altogether.
Transient Art Day
We had an assembly with Mrs Johnson in the morning and we learnt what transient meant. We then went outside and explored our surroundings and looked for objects that would help us to make different pieces of art. We also used some man made resources. We had an amazing time outside and really put our imaginations to work.
Tadpoles
Guess what we found on the playground............................................................
Tadpoles!
The children found them in a muddy puddle, so we took them in and are watching them grow. This real life experience coincides with out story writing based on the Tadpole's Promise.
Oxford Botanical Gardens
We visited the Botanical Gardens as part of our topic learning. We went into different greenhouses to see what was growing there. We went in the Palm House and the Lilly House. We used our sense of smell to learn about the different smells that plants produce. The children drew various observational drawings from the rainforest to colour mixing using pastels in the Lilly House. The children learnt about the different layers in a rainforest and what sort of things the rainforest produces for us to eat or drink. A firm favourite was the chocolate beans.
Floristry
As part of our topic learning, we were lucky enough to have one of our parents come into school and show use various plants and the different smells. We smelt wax flowers and eucalyptus leaves. We were shown how to make a small posy, just like in the shops. The children took home their flowers for a special day.
British Science Week
We have started our investigations about changing. We have added food colouring to the the water in the flowers and we are now waiting to see what happens.
Look at our skittles investigation!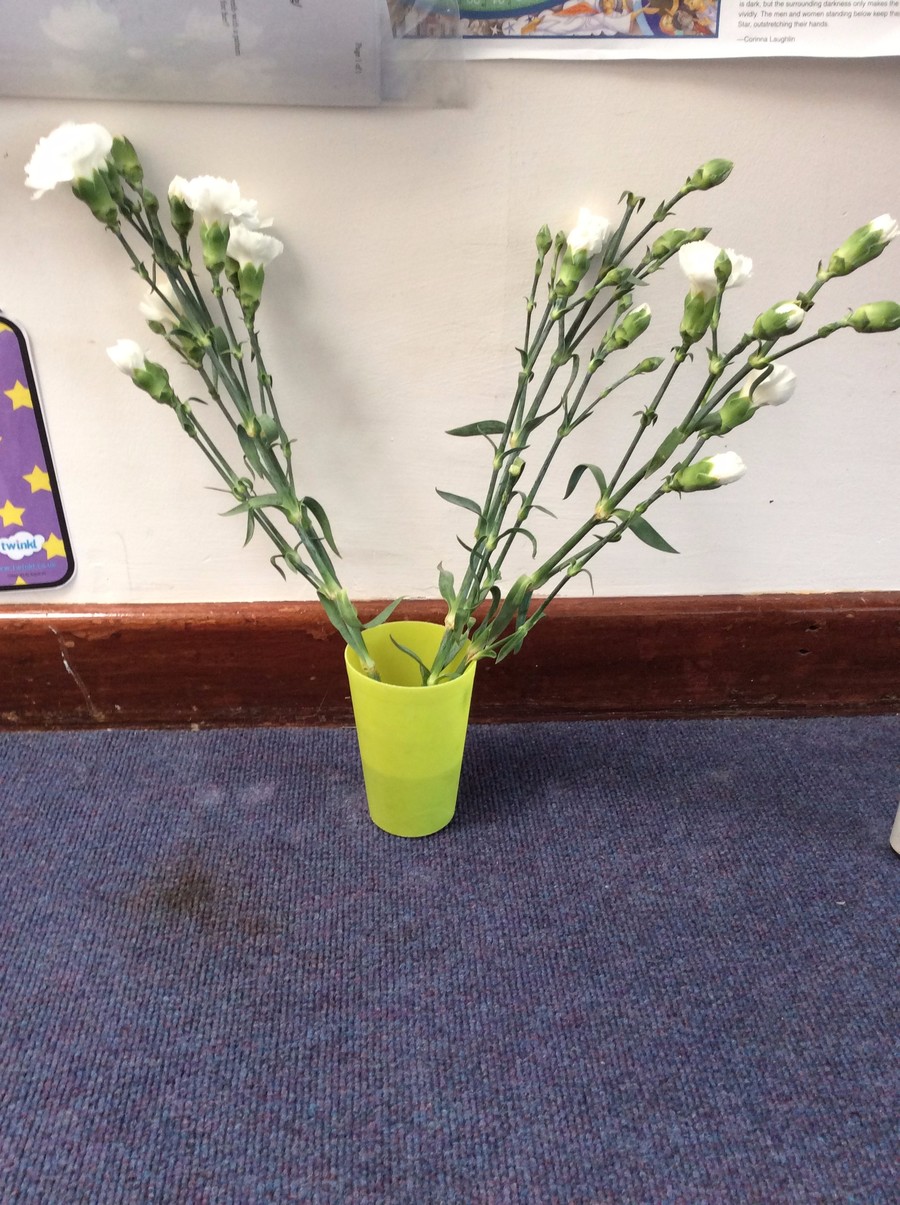 Maths
We have started our learning fractions!
Ask us about halves, quarters and thirds.
FS and KS1 Liturgy
We have been learning about forgiveness.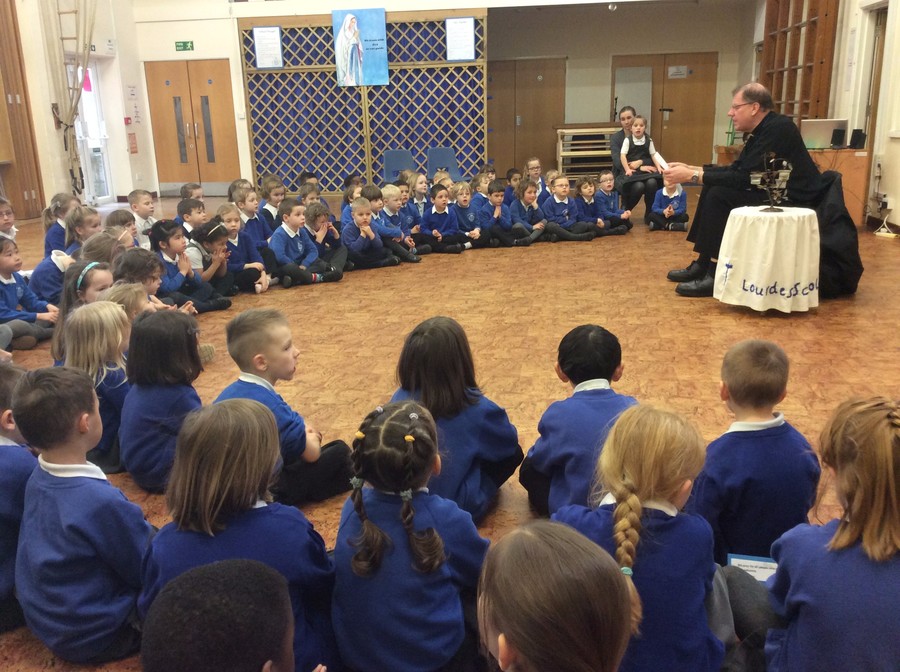 World Book Day
Where's Wally?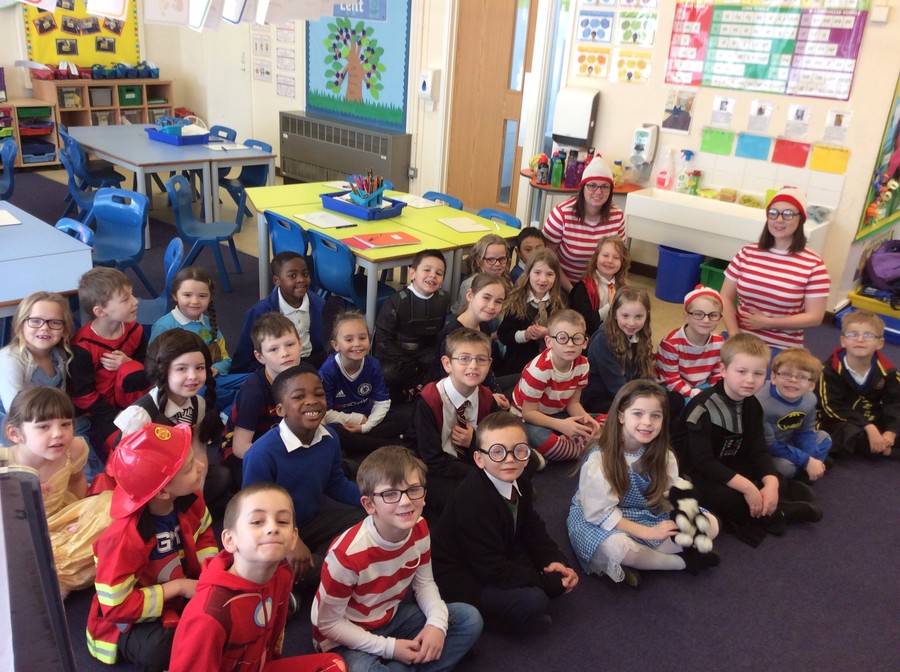 Word of the Week
20.02.17- Drained- Tired
27.02.17- Mammoth- Large
06.03.17- Muffled- muted or quiet
13.03.17- Dreary- bleak
20.03.17- Jubilant- extremely happy
Year 2 and Year 3 Pancake Afternoon
The children in both year groups took part in a pancake afternoon. The children had a range of activities to take part in: using different weights to weigh, pancake reading comprehension, reading and measuring ingredients for pancakes, pancake math challenges, bee-bot pancake races,pancake cafe, designing different pancakes and of course eating pancakes with different toppings.
Our new Topic board-The Scented Garden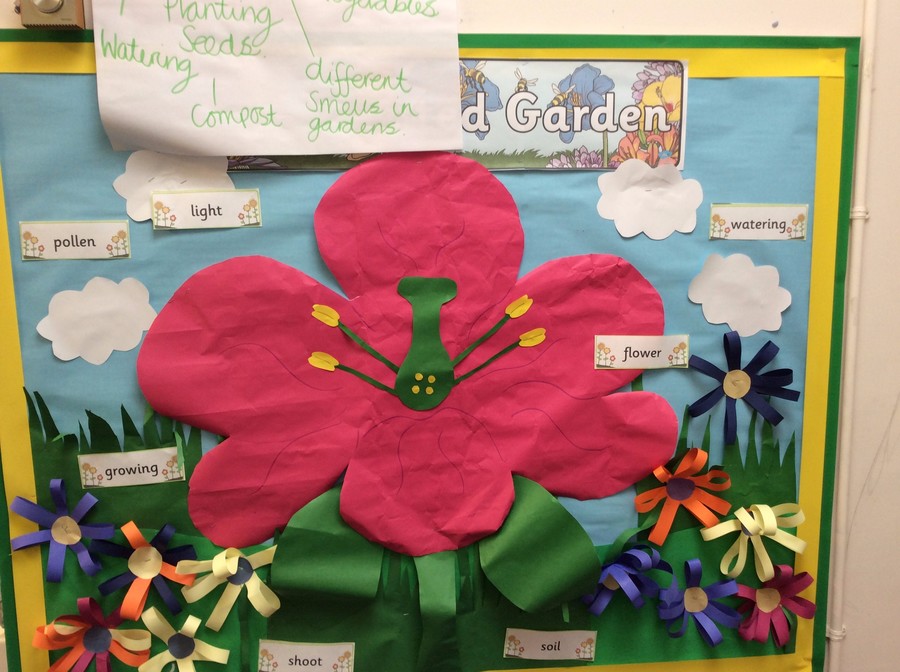 Maths
We have been learning to combine different coins to create the same value.
Religious Education
This term we have been learning about Lent. We have made promises that we want to keep.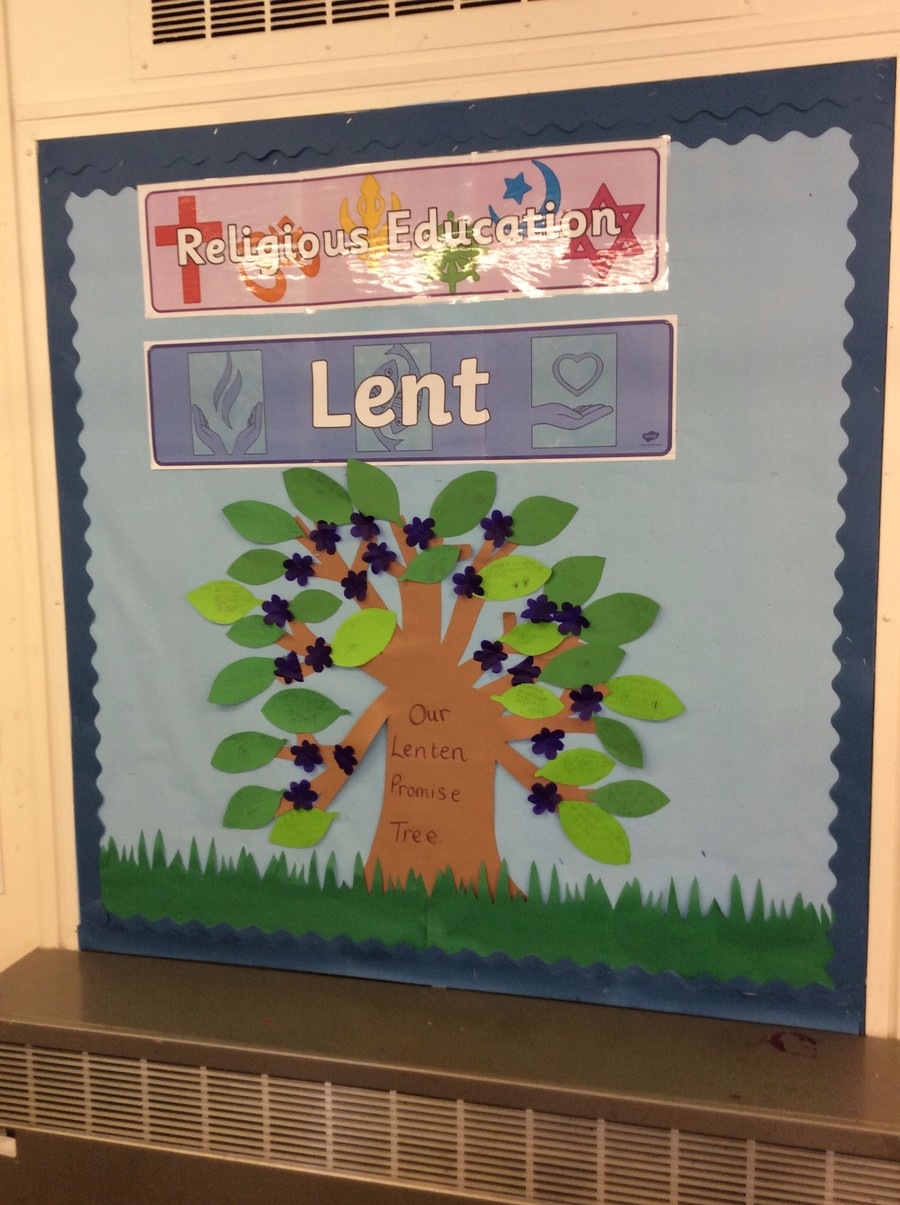 Topic
We have started learning about plants. We have already planted different herbs and different vegetables for our salad garden. We have also started to do observational drawings for various flowers.
Term 3
Topic Homework
The children have been sharing their first topic homework for our class topic- 'Towers, Tunnels and Turrets'
The children have enjoyed sharing facts about different towers and building various models.
DT Day
As we have been learning about castles. We decided to enhance our learning by designing and making our own castles, based on our visit to Warwick Castle and from all of our knowledge on castles. We had parents and grandparents into help us construct and then paper mache our castles. We loved getting covered in glue!
Warwick Castle
Word of the Week-
09.01.17-Magnificent- extremely beautiful or impressive
16.01.17- Hideous- horrible or ugly.
23.01.17- Courageous- brave 30.01.17- Elated- extremely happy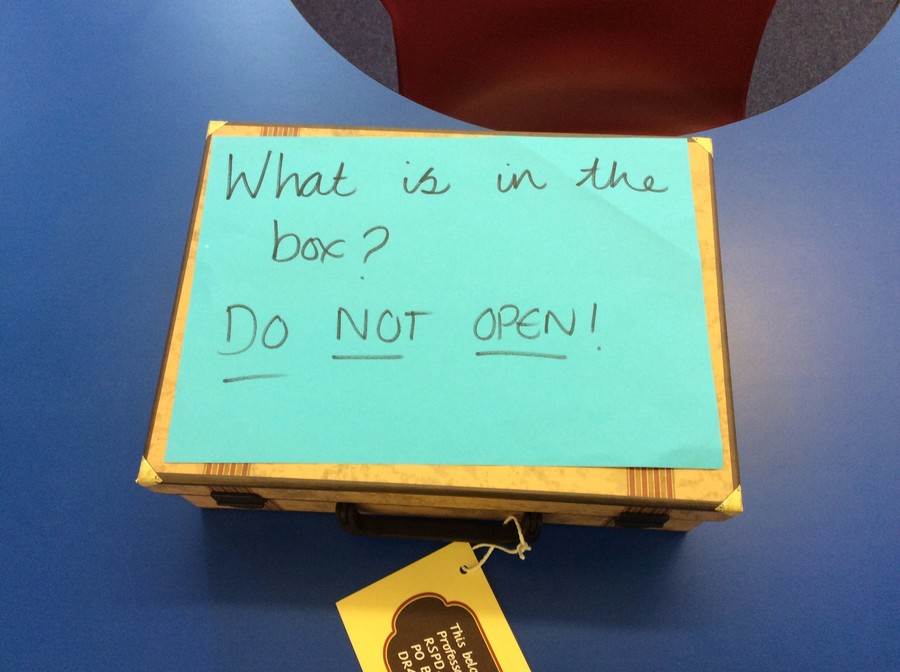 We returned from our Christmas break to find this suitcase left in the middle of the classroom. The children had lots of ideas about what might be in the suitcase.
What do you think is in the suitcase?
Learning songs for the Year 2 Concert.
The children will be taking part in the Witney Partnership Singing Concert. More details to follow.
Look at how we warm our voices up.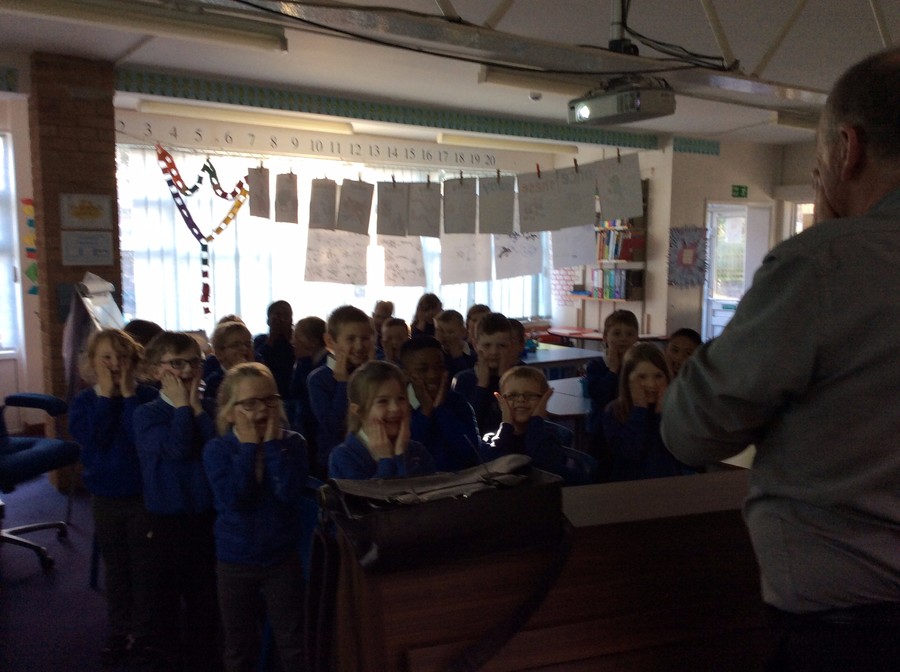 Maths and Geography
The children have been learning about statistics, in Maths and have been gathering data to create different tally charts, pictograms and block charts. In Geography, the children have been using the chrome books to look for countries that have towers and then mark them on a world map.
Term 2
Maths Open Afternoon
The parents of the children in Year 2 came and experienced a few of the Maths Mastery questions. The children showed the parents what to do.
Dissecting a squid
As part of the children's topic of Beachcombers; we decided to dissect a squid.
Art Day
The children spent the morning focusing on composition and effect and drew pictures based on what they think about Christmas.
Key Stage One- Christmas Counts
The children performed 'Christmas Counts' on three occasions. They were absolutely fabulous and I think everyone enjoyed our singing!
Christmas in Sweden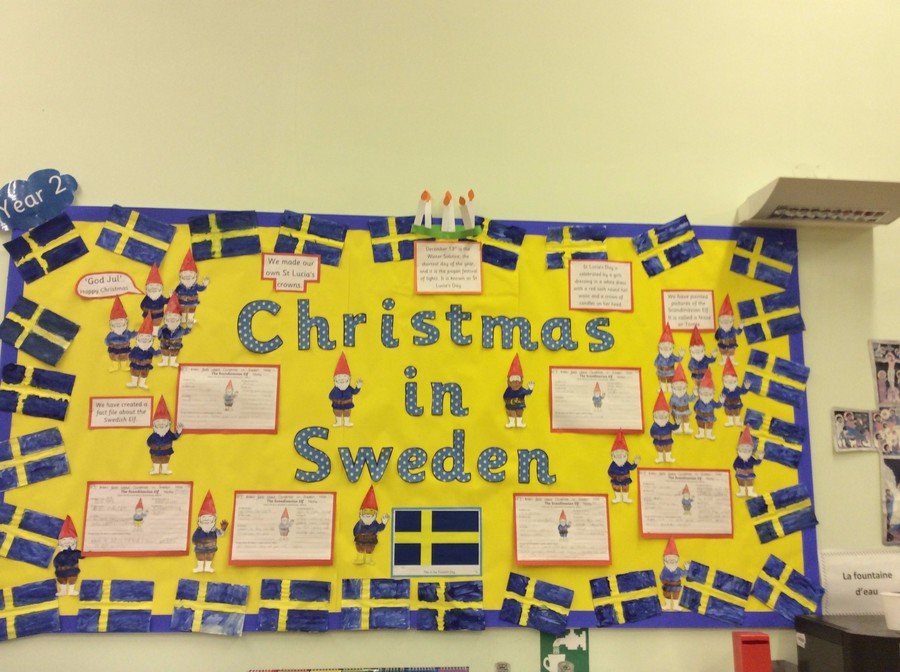 The children in Year 2 have been learning about Christmas in Sweden. We looked at the Swedish traditions that are celebrated, for example, St Lucia's Day and the children
Cross-Curricular Maths
The children have been learning to use the greater than, less than and equals signs in Maths. We then used them with rocks, pebbles and shells to compare the weight of each object.
Geography
We have been learning about all the different places in the United Kingdom. We then labelled maps to show where everything is. The children used the chrome books and atlases to help them to find out the relevant information.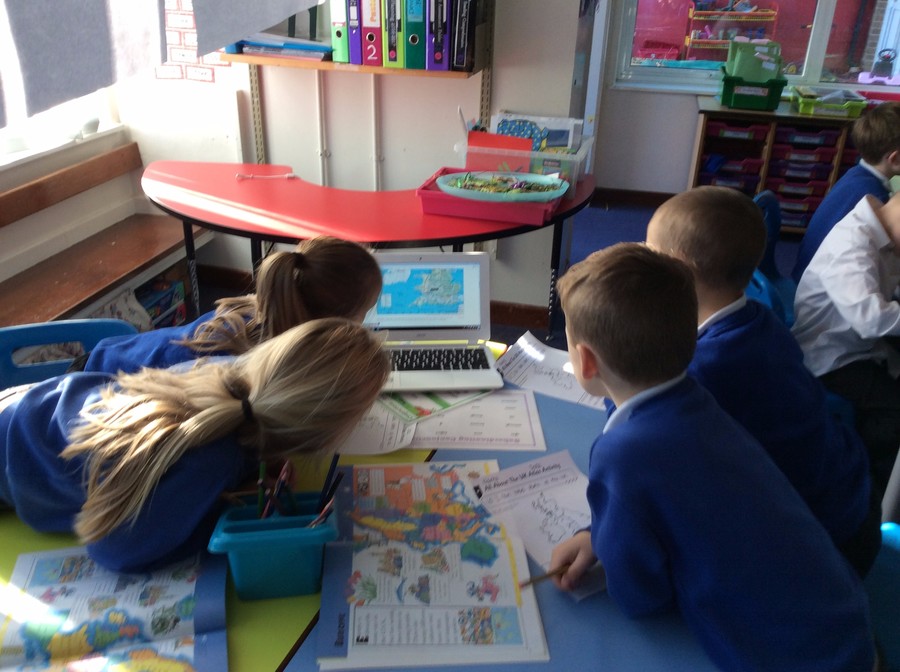 Advent
The children have been learning about Advent. We created a class wreath and we spoke about what the candles in the wreath symbolize.
Guide Dogs
We were very lucky to have a visit from Nicole, who has a lovely dog called Kimba. Nicole spoke to us about what it is like to be blind and how Kimba helps her to leave the house, go to the shops and pick her daughter up from school. We asked lots of questions and Kimba stayed still the whole time.
Spellathon
The children in Year 2 decided that our class charity would be 'Rosie's Rainbow Fund'. The children were asked what they would like to do raise money for this charity. The children decided on a sponsored spell and that they would like more than 20 spellings to learn. The children were given 64 words to learn!
They all had a go and loved getting a certificate at the end.
Well done Year 2!
KS1 and Foundation Stage
Liturgy
Father Pat came into school and taught us all about 'Our Lord Jesus Christ, King of the Universe'
Maths
In Maths, we have been working practically to work out multiplications for the two times table. We have now mastered grouping and arrays!
Science
As part of our Science topic, we have been looking and classifying things. We went around the school field looking for different things.
Year 2
Term 1
Welcome to the start of a new academic year. I am really looking forward to all the exciting new things that we are going to learn over the year.
Our topic is- Beat Band Boogie!
Movie Day
We all dressed up as a character from our favourite movies.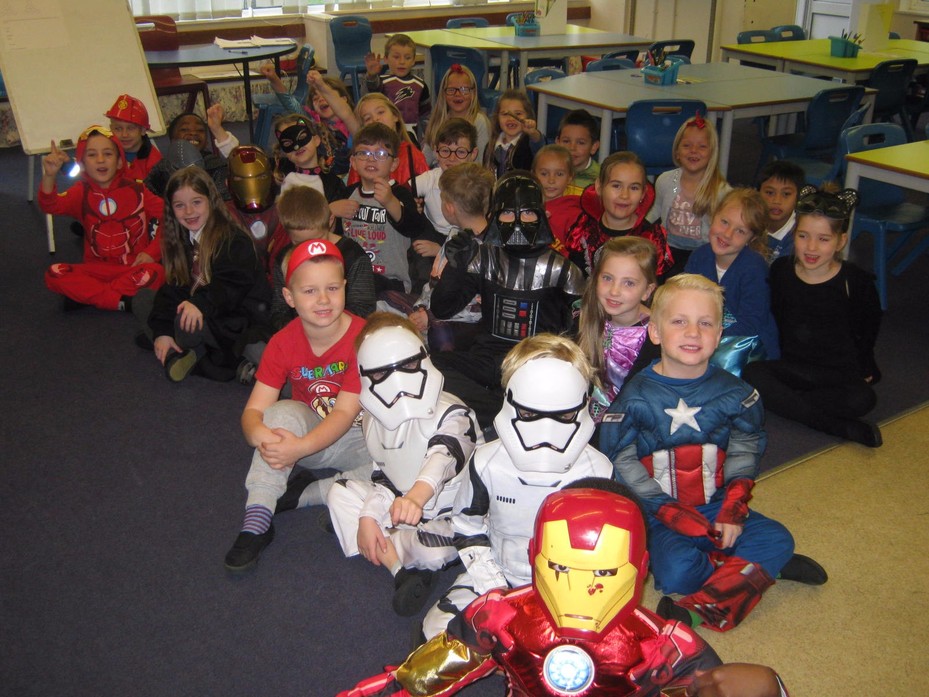 Art day:
We have been looking at how to create secondary colours, using the primary colours.
Ask the children to tell you what they are and what new and exciting colours we created.
We also looked at how we could change the shade of the colours. We noticed that we if used black or white we could make the colours go lighter or darker.