What we hope to achieve whilst we are at Kilvrough...
'To face/overcome our fears' - Ollie; 'To learn about the environment' - Joel; 'To try new activities' - Charlie; 'To have fun' - Jacob; 'To try new things' - Mida; 'To learn about risk' - Molly; 'Time away from home' - Aiyana; 'To develop team work skills' - Zoe; 'To encourage and support our friends to do things' - Nicole; 'To develop our leadership skills' - Olivia; 'To show our independence' - Annabelle; 'To develop our communication skills' - Kinga
Kilvrough
Monday, 30th April 2018
We've arrived. After the best part of 4 hours, including a stop, we have made it safe and sound to Kilvrough & we are all very happy to be here...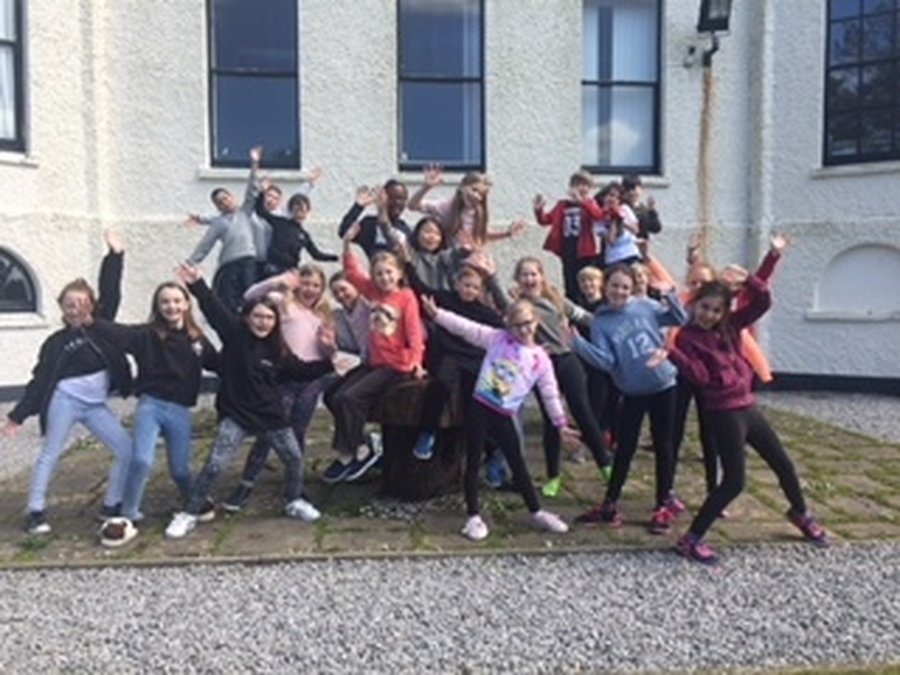 Once we arrived, we had a brief tour and found out our groups, dorm buddies and the duty rota. Today, we are being served by.... Oscar, Ollie, Zac, Tyler and Shafiq.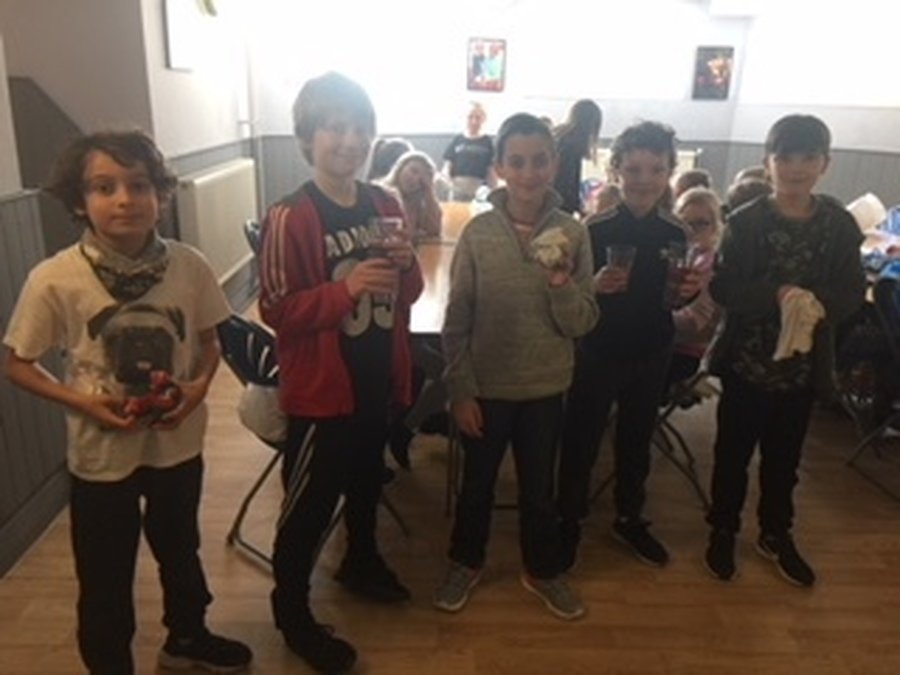 After lunch we took part in our first team building activity. We all did incredibly well and by the end were working well as a team ... and the sun is shining!!!
Day 2 - Tuesday, 1st May
Today has been a very eventful day; full of personal challenges for us all. It has seen us squeezing through tiny gaps (the letter box), crawling through freezing water-filled tunnels (the toilet!) and scrambling in the pitch-black through narrow corridors of rock (the worm hole). All of which filled me with pride as I watched your children either overcome their fears and attempt and succeed their personal goals or support and encourage those who found it more challenging. The support they have shown one another has been truly incredible.

'I was really scared by the 'worm hole' because it was dark and we had to crawl on the floor a lot. You could just about make out where you were going. Evie encouraged me and I went through it. I found it quite hard when it started because you had to duck down on to your belly. It then got harder because it went down more but I crawled along and managed to get out. I felt so proud of myself.' - Maisie
'I found today quite challenging as it was very wet in the caves. My wellies became filled with water which meant walking was a challenge especially because it was slippery. The hardest part for me was the 'worm hole' as it was a very small space; you couldn't move your head much or see what you were doing. Molly
Click on the picture below to see some more pictures of us preparing for caving:
Today we have been served by.... Mida, Aiyana, Zoe, Molly & Nicole who have done a superb job!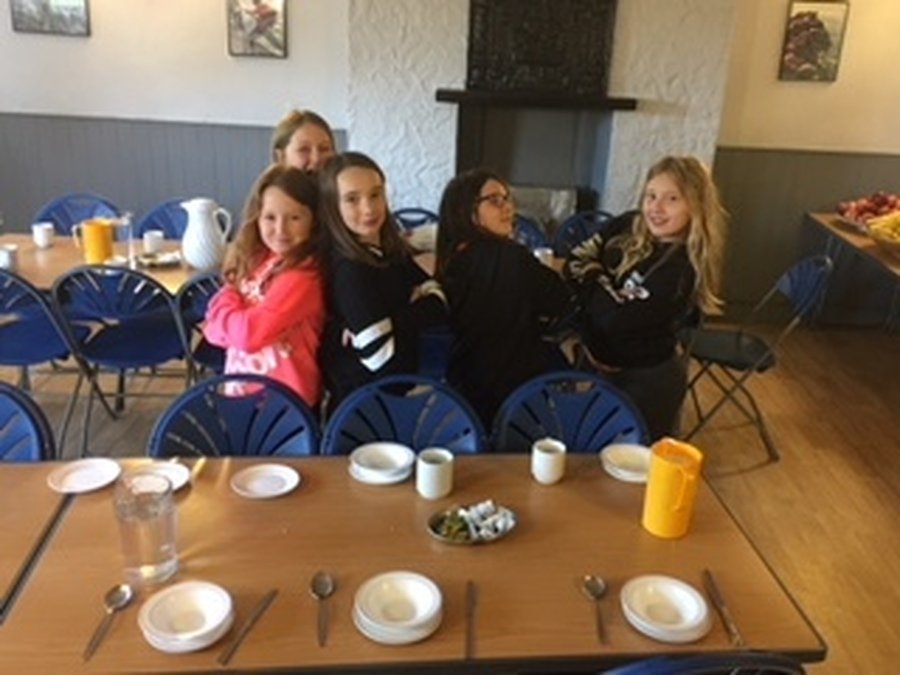 The food here, as all the children have agreed, is very very good. Lots of clean plates and full tummies.
Day 3 - Wednesday, 2nd May
Another fantastic day today had by the children which has stretched and challenged them in different ways.
What started out as grey and miserable, has turned into blue skies and warm rays - the perfect weather for our activity. We even broke out the suncreams! The Coastal Exploring (which we thought would be a bit of light rock pooling and a stroll along Rhossili beach) turned out to be more of a high energy rock scramble which tested our co-ordination, balance, ability to cope with heights and stamina. Once again, Mr French and I were so impressed with the children's resilience and their support of one another. When fatigue set in, spirits remained high and the 5 hours of scrambling soon passed. We discovered many sea creatures on our way and even spotted a seal.
Click on the picture below to see the amazing adventure we had today...
Day 4 - Thursday, 3rd May
Today started with a filling breakfast and bacon rolls all round. We headed out for the canal for our canoeing session with a positive focus as the week draws to a close.
All the children showed how they can work effectively as a pair or team steering and maneuvering the canoes around the Neath basin. After getting the hang of the different techniques we stopped for a well earned lunch before heading down the canal. Again the children showed excellent resilience and determination especially when getting stuck facing the wrong way. The return down the canal lead to some healthy team rivalry and a lot of splashing. Some of the children were even daring enough to jump in the canal afterwards.
We returned to the Manor for necessary hot showers and a scrumptious dinner of pizza and wedges followed by chocolate brownie and ice cream. Our servers today were by Ava, Annabelle, Mercy, Kings and Olivia.
Mr French and I have been so impressed with the children's willingness and determination to just get stuck in and have a fabulous, memorable day today. We are looking forward to our last activity

tomorrow

, the weather forecast is looking good :)
Please click on the picture below to see the fun that has been had today...
Day 5- Friday, 4th May
Mrs O'Neill has been in touch to say they are all packed and ready to go shortly. They had a misty start to what has been a fun day.
Please click on the picture below to see photos of the fun they had body boarding...
Please click on the link below to see the powerpoint presentation from our Sharing Assembly....