At our Lady of Lourdes Catholic Primary School we deliver an inclusive, broad, rich and creative curriculum which provides our pupils with engaging, meaningful learning experiences to inspire, enthuse and challenge learning. Our curriculum aims to identify opportunities for all pupils to apply their core knowledge and skills in RE, English and Mathematics across all subject areas. Our curricular topics are planned using the Cornerstones Curriculum.
We also encourage our pupils to engage in a range of extra-curricular activities, in particular sport, and are proud of our many achievements in these areas.
We aim to prepare our pupils for life in modern British society by fostering in them attitudes and Christian values which will enable them to become confident, caring, respectful and responsible citizens. OLOL pupils are given a voice and involved in planning and decision making. They are encouraged to take responsibility for their own learning in a variety of ways such as peer and independent learning opportunities. In doing so, we intend to foster a lifelong love of learning in them all.
What is the Cornerstones Curriculum?
The Cornerstones Curriculum is a creative and thematic approach to learning that is mapped to the 2014 Primary National Curriculum to ensure comprehensive coverage of national expectations.The curriculum is delivered through Imaginative Learning projects which provide a rich menu of exciting and motivating learning activities that make creative links between all aspects of our children's learning. We believe children learn better when they are encouraged to use their imagination and apply their learning to engaging contexts. Our topic based curriculum provides a variety of learning challenges throughout the academic year that require children to solve problems, apply themselves creatively and express their knowledge and understanding effectively across the curriculum.
How it Works?
Each topic begins with a memorable experience and children will progress through these four stages of learning in each Independent Learning Opportunity: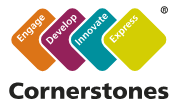 Each stage provides opportunities for children to learn and respond in a variety of ways, keeping projects flexible and able to follow children's interests and needs. To find out more about these stages please see the Cornerstones website.
Teaching phonics
Since October 2017 we have been using the Read Write Inc. programme to teach phonics across foundation, Key Stage 1 and for those children in Key Stage 2 who find reading challenging.
Read Write Inc., developed by Ruth Miskin, provides a structured and systematic approach to teaching literacy. It is used by more than a quarter of the UK's primary schools and is designed to create fluent readers, confident speakers and willing writers.
Each Read Write Inc. programme meets the higher expectations of the National Curriculum and uses assessment to accelerate every child's progress and prepare them for the National Curriculum Tests.
Further Information
For further information about the curriculum or any of the methods used by the School, please speak to your child's teacher in the first instance or contact the School Office.