About Our School
Welcome to Our Lady of Lourdes Catholic Primary School where 'We Learn with God as our Guide'. We are a thriving, busy and welcoming school in Witney, Oxfordshire providing a child-centred high quality education where children flourish socially, emotionally, academically, physically and spiritually. You can find out more about our curriculum here.
Our Lady of Lourdes is part of the Pope Francis Multi Academy Company in the Archdiocese of Birmingham.
School hours: 8.40am - 3.10pm (32.5 hours)
We have 7 classes.
Foundation/Reception - 4-5 years

Year 1 - 5-6 years

Year 2 - 6-7 years

Year 3 - 7-8 years

Year 4 - 8-9 years

Year 5 - 9-10 years

Year 6 - 10-11 years
All children from Reception Class (summer term) to Yr 6 are allocated to a House at Our Lady of Lourdes. The children are put into their Houses for in-school competitions, including Sports Day at the end of the summer term. There are four Houses:
St Thomas Aquinas – Red

St Francis of Assisi – Blue

St John Bosco – Green

St Catherine of Alexandria – Yellow
Each has two Year 6 House Captains, who are voted for by the Year 6 class at the start of the school year. The House Captains help to organise their teams and are role models for the other children in school. During assemblies throughout the year they are required to report to the rest of the school on competitions and successes. Each Term there is a prize for the Team with the most points.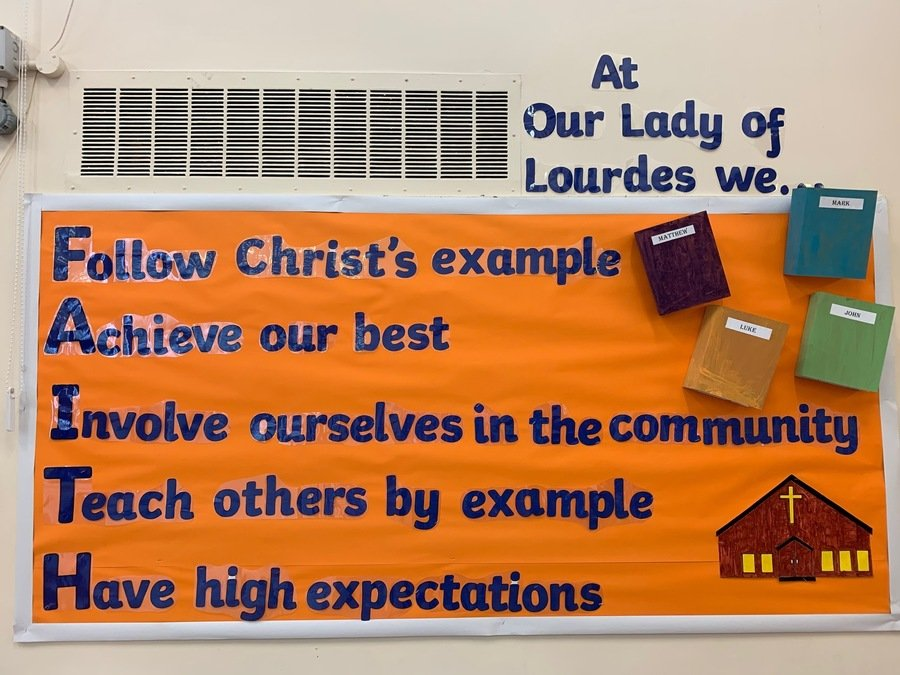 "Our Lady of Lourdes Catholic Primary School is a calm, friendly and welcoming place where pupils are happy and make good progress in their learning." Ofsted 2017

"Pupils feel safe, cared for and valued." Ofsted 2017

"Children get off to a good start in the well-organised early years, and are suitably prepared for Year 1." Ofsted 2017

"Pupils' spiritual, moral, social and cultural development, including the understanding of British values, is actively promoted." Ofsted 2017